The 'Why' of it All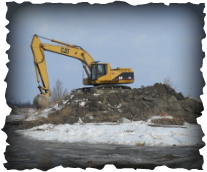 Background
Ever since they where little fellows, both the Rabb brothers had a passion for playing in the dirt. Parking the tonka toys for a while, the lads went off to university and became professional engineers. The bigger "sand boxes" they now play in required bigger and more sophisticated equipment to handle large scale projects in a timely & efficient manner. This was the basis upon which they proceeded to build a heavy civil construction company, based on: hard work, safety & ethics.


We are often asked what RABB stands for. Besides it being our family's last name, it stands for quality & integrity!

Our workforce is comprised of a team of very competent & highly trained : professional engineers, operators, drivers, maintenance personnel, & office staff to provide a level of service second to none. We may not be the largest heavy civil works company, but we actually care about our clients, staff, and the projects we work on.

Our dream is also a goal, to leave the world a better place than we found it, and that's no easy task. This is being accomplished daily by: cleaning up contaminated sites, installing & updating on-site sewage treatment systems, repairing & upgrading storm+sanitary sewer lines, rigorously recycling, implementing re-use programs, buying locally, supporting community improvement projects, etc.... All these small things do add up!



---