Past Projects

Since our inception, we have tackled many large scale and complicated projects including: institutional (ie. hospitals, universities, schools, churches, military, nuclear, research & prisons), commercial , (ie. big box stores, high tech, industrial (ie. heating & cooling plants), municipal infrastructure, (roads, sewers, demolition), agricultural & environmental , (ie. archaeological excavations, soil erosion control, contaminated site clean ups, storm water ponds), and sports & leisure (ie. golf course building , sports fields, running tracks).

If it involves moving dirt, mud or rock - we do that!

A few examples: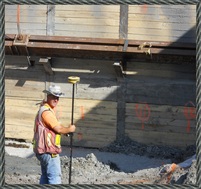 Excavation & Site Work - Ottawa University 2012 (Grad House)
Our Topcon GPS surveying equipment was definitely handy at the University of Ottawa Grad House Project. It was actually a complicated bit of a project in that is was a deep excavation with not a lot of space.
Two gold stars are given to Mark Rabb for tackling this project on behalf of Team Rabb. Well done.
---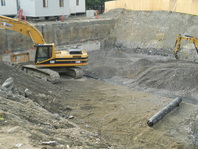 Excavation & Site Works - Carleton University 2011 (new student residence)
Exposing & tying into the tunnel system at Carleton University - it's what we do.
---